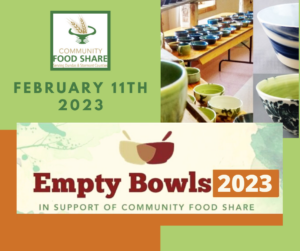 When: Saturday, February 11, 2023 at 12-2pm
Where: Williamsburg Christian Reformed Church
Community Food Share's signature fundraising event, Empty Bowls, is back again this year. The fifth annual event will take place on Saturday, February 11 from noon until 2 p.m. at the Christian Reformed Church in Williamsburg.
Empty Bowls is an international, grassroots movement to end hunger. This unique fundraising event allows participating potters and groups to create and donate handcrafted bowls and then serve a simple meal in the bowl. Guests choose a bowl to use and to keep as a reminder of all the empty bowls in the world. In exchange for the meal and the bowl, one hundred percent of each meal's proceeds are devoted to local hunger-fighting organizations, such as food banks or soup kitchens.
Only 150 tickets are available. Tickets for this edition of Empty Bowls are $45 for a handcrafted bowl (#65) OR $25 (#85) for a hall bowl. The lunch will include soup, bread and refreshments all donated by local caterers and bakeries. The ceramic soup bowls have been individually created and donated by over a dozen potters from our community.
Musical entertainment for the event will be provided by well known local performer, Claude Plamondon.
New this year to the event is a silent auction which will feature several high interest items including two tickets for a Senators hockey game, two concert tickets to see Journey and a one-night stay at the Lord Elgin Hotel as well as several epic Dundas & Stormont events and services. All proceeds will go to support Community Food Share.
"We are excited to be back with our first Empty Bowls since February 2020," said Community Food Share Team Leader Jane Schoones. "We anticipate that the tickets for this year's Empty Bowls will sell out quickly."
Tickets for Empty Bowls 2023 are on sale online through the Community Food Share website or for cash at the following area businesses: CornerStone Convenience Store (Finch), Mustard's Variety (Iroquois), Seaway Valley Pharmacy (Morrisburg), Sandy Row (South Mountain), Sherry's (Williamsburg), Iron Forge (Winchester), Maker's Hub (Winchester).