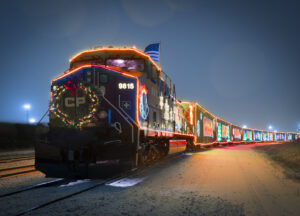 When: Monday, November 27th, 2023, 2:30pm
Where: Adjacent to James Street between William Street and George Street, in Finch
 ________________________________________________________________________________
Press Release – Community Food Share – CPKC Holiday Train  2023
One of the first signs of the Christmas season in Dundas & Stormont Counties is the arrival in Finch of the CPKC Holiday Train.  Since it began in 1999, the brightly decorated CP Holiday Train has been a highlight of the season for people living along the CP Rail line.  Over the years CP's generous donations have made it possible for food banks along the route to provide for their growing client base and to collect nearly five million pounds of food donations at local Holiday Train events.
This year the CPKC Holiday Train is back with a stop scheduled for Monday, November27 in Finch at 2:30 p.m.  As it has in the past, the train will stop adjacent to James Street between William Street and George Street, in Finch. Again, this year, there will be live entertainment during the period the train is stopped.
Headlining the concert will be a group who call themselves the Anyway Gang, made up of four friends with links to some of Canada's most notable bands. They include Dave Monks from Tokyo Police Club, Sam Roberts from Sam Roberts Band, Menno Versteeg from Hollerado, and Chris Murphy from Sloan. They have been working together for a few years and have produced a full-length record called 'Still Anyways'.
You're invited to join your friends and neighbours to see the brightly coloured train and to enjoy the musical entertainment.  Again, we invite visitors to bring cash or healthy, non-perishable food donations in support of Community Food Share food banks, serving families facing food insecurity in Stormont and Dundas Counties.