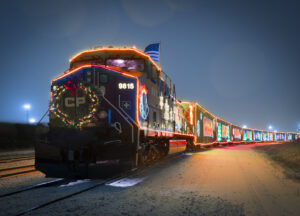 When: Monday, November 28th, 2022, 2:30pm
Where: Adjacent to James Street between William Street and George Street, in Finch
Our sincere appreciation to all staff and volunteers who helped before, during and after the event to ensure it was an amazing success.
We collected 1432lbs of non perishable food, $2800 in monetary donations and received $4000 from the CP Holiday Train! 
 During the short stop, approximately 650 people enjoyed a visit with Santa, an interaction with the Finch Grinch, followed by an energetic performances by Aysanabee and Tenille Townes. 
 —————————————————
Press Release – Community Food Share – CP Holiday Train  2022
After a two year hiatus due to COVID, the CP Holiday Train is back!
Since its beginning in 1999, the brightly decorated CP Holiday Train has been a highlight of the season for people living along the CP Rail line.   The train's visit signals a start to the magic of the holiday season.
This year the train will once again make a stop in Finch at 2:30 in the afternoon of November 28. As it has in the past, the train will stop adjacent to James Street between William Street and George Street, in Finch.
Live entertainment is always a part of the train's visit and this year's return will feature musical guests Tenille Townes and Aysanbee.
You're invited to join your friends and neighbours to see the brightly coloured train and to enjoy the musical entertainment.  Again, we invite visitors to bring cash or healthy food donations in support of Community Food Share, serving families facing food insecurity in Stormont and Dundas Counties.
CP's generous donations over the years have reached over twenty million dollars and the train has enabled food banks along the route to collect nearly five million pounds of food donations at local Holiday Train events.